86% of SMBS are not prepared for a Cyber Attack.

Are you @ Risk?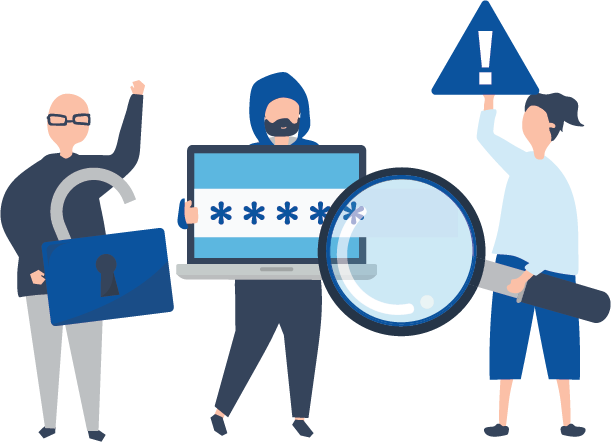 One small slip could cost you hundreds of thousands of dollars to resolve and correct.
Cyberattacks against SMBs continue to climb, with cybercriminals regularly breaking through the virtual front door and holding SMBs hostage with ransomware, committing financial fraud with sophisticated phishing attacks, and stealing customer data for use in identity theft.
Sadly, only about 14% can thwart such attacks, as over 60% find the losses insurmountable and go out of business within 6 months of an attack. This is not fair!
FREE CyberSecurity Assessment for SMBs ($1,000 Value)
We hate seeing Denver-area small and medium-sized businesses suffer from cybercrime, and have made it our mission to protect as many small business owners and leaders as possible from cyberattacks.
We back up our mission with our $1000 commitment to you, a free cybersecurity assessment and recommendation plan designed to make you fully prepared to thwart any style of cyberattack:
Security Risks and Gaps. Understand the areas that are protected and those that are vulnerable across your network, IT policies, infrastructure, people and internal controls
Vulnerability Scan. Discover your network, website and other vulnerabilities that could allow cyber criminals access to your systems, data or digital information
Survivability Estimate. Get scored on your ability to survive a data breach or ransomware attack
Full Assessment Report. Free recommendations plan focused on your prioritized areas for remediation.
The Assessment for SMBs is easily completed using our 4 step Cybersecurity Assessment methodology:
1. Information gathering
Step 1 starts with interviewing the key members involved in all aspects of your IT management and CyberSecurity, with interviews preferably done in-person. Also, any documentation for IT may be reviewed and incorporated into step 3.
2. Vulnerability scan
Supplmenting step 1 is a pre-defined vulnerability scan of your IT network. The output undercovers the unknown vulnerabilities that cybercriminals can exploit at your expense.
3. Review & analysis
Simply, we assess your IT security controls, gaps, and deficiencies compared to best practices, and regulatory requirements, based on the interviews, documentation and scans.
4. Assessment and recommendations report
The analysis is compiled into a final assessment report and plan, including our recommended priorities (and sequence) for you to mitigate risk and help protect you from cybercrime financial loss.
Claim Your Free Assessment Today
This offer is open to businesses located in Colorado with 20 or more employees. Some restrictions apply, and will be presented prior to execution.